BCRO's Hop Skip n' Jump
aka Skip, Skipper, Doodles

Sweet, fearless, funny, playful and gorgeous!!
Skip was born May 5-2006,  BCRO was contacted about a 8 week old puppy in Quebec that was being advertised on the internet free to good home. It was also posted that the puppy had a broken leg.  After contacting the breeder and speaking further  BCRO agreed to take the pup into their foster care and immediately started to work on raising money to take care of his medical expenses.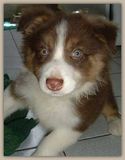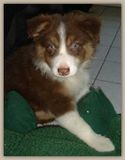 9 weeks old
At 9.5 weeks old we took Skip to see Dr Berensford in Grand Valley.  We were told that his leg had been broken since 2 weeks old but the breeder did not have the resources to take him to the vet.  After BJ did her exam and X rays it became very apparent that our pup actually didn't have a broken leg,  he had a birth defect and was missing the long bone in his ankle.  Not only was the bone missing but the toe bones were not properly developed on the inside, the outside bones were longer and almost normal compared to the inside which were very undeveoped.  This was causing his foot to turn to the ouside.  With the missing bone he had no stability and a shortened length of leg.  Together we worked at devising a temporary splint and volia! He walked on it! He used it for every step and it is not bending over, the difference was amazing.
Our vet felt that  he really  WANTED to use it, this was a good sign as the tendons and nerves were there...that with consistency and rehab help we may actually save it and at least have it functional to some capacity.  We decided to work to rehab his leg and foot with the splint supporting and holding it in position, a woman who made neoprene orthodics for dogs came out to visit Skip and we hope this would give him a functioning leg.  We knew it was highly unlikely that he would ever be strong enough without the use of a splint.